Gira de Helloween y Gamma Ray 2007/ 2008
Últimas actualizaciones de la gira de Helloween y Gamma Ray:
Desde el concierto en Roma se les ha unido el grupo Alemán AXXIS el cual ha sido muy bien recibido por los fans.
Mientras tanto, el nuevo disco de Helloween "Gambling With The Devil" ya se encuentra por tercera semana consecutiva en las listas de ésito de Grecia ny está en 6ª posición.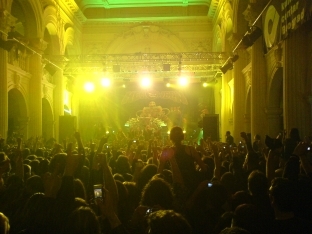 La parte Europea del Hellish Rock Tour 2007 - 2008 ha comenzado con un big bang. Más de 2000 fans úngaros desquiciados han tomado la sala Petöfi en Budapest para ver a Helloween y los invitados especiales Gamma Ray. Un día despues las dos bandas llenaron el SKC en Belgrado/ Serbia y al día siguiente tocaron delante de 5000 fans entusiastas en el Palacio de los Deportes de Invierno en Sofia, la sala donde Helloween grabaron parte de su reciente DVD en directo "Live on 3 Continents". DEspues de un concierto en Istambul la banda segui´ra hacia Italia y Grecia y poco despues, el 15 de diciembre, tocara en Chequia, en la sala NOvesta, donde ya sehan agotado las más de 3500 entradas.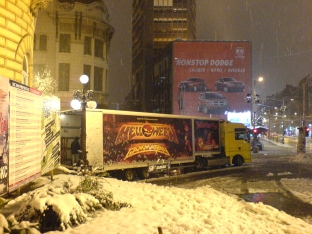 La setlist de los dos grupos es la siguiente:
Gamma Ray:
'Intro: Welcome', 'Heaven Can Wait', 'New World Order', 'Land Of The Free', 'Fight', 'Into The Storm', 'Real World', 'Rebellion In Dreamland', 'Heavy Metal Universe', 'The Silence', 'Ride The Sky', 'Valley Of The Kings', 'Send Me A Sign'.
Helloween:
'Halloween', 'Sole Survivor', 'March Of Time', 'As Long As I Fall', 'Eagle Fly Free', 'Paint A New World', 'A Tale That Wasn't Right', Drum solo, 'King For A 1000 Years', `We Burn`, 'The Bells Of The Seven Hells', 'Dr. Stein', Medley - 'I Can'/'Where The Rain Grows'/'Perfect Gentelman'/'Power'/'If I Could Fly'/'Steel Tormentor'/'Keeper Of The Seven Keys', 'Future World' (with Gamma Ray), 'I Want Out' (with Gamma Ray).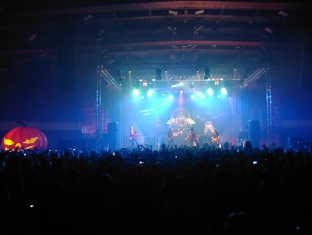 El nuevo album de HELLOWEEN "Gambling With The Devil" ha llegado a las siguientes posiciones en las lista de éxito:
Czech Republic: 10
Greece 16
UK: 18 (in the Rock/Metal Charts)
Hungary: 18
Sweden: 34
Finnland: 34
Germany 38
Norway: 44
Italy: 49
Switzerland: 88
USA: 95 (in the Billboard Indie Charts)
France: 103